Though I can't say I've ever read the Tolstoy masterpiece -outside of required readings, I'm lucky if I find enough time to manage browsing an entire magazine- my mother and I went to see the film adaptation of
Anna Karenina
tonight and I must say it was quite lovely! Keira Knightley's character may go down a road of self-destruction, but my does she look good doing it! Set in 1870s Imperial Russia, the film follows the dramas of Russia's upper class, all in marvelous fashion. You can understand why the communists had an ax to grind with the ruling classes- the sheer amount of excess of fabrics, jewels, and yes, furs would probably drive anyone crazy with jealousy after a while. Or you can just sit back, relax, and admire the fabulous costumes. Here are some of my favorites: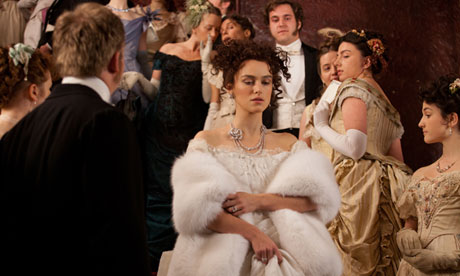 When browsing the Urban Outfitters in Pasadena last weekend (after a devastating football loss to those silly UCLA bruins, but that's another story...) I found a most humorous site: the store, under its Urban Renewal vintage restoration line, was selling legitimately Ugly Christmas Sweaters. They were worn over sequin skull T-shirts, of course.
Ugly Christmas Sweaters seem to be the preferred holiday garb of the ironic young hipster set. The more bells and glued-on ornaments, the better! But for those of you who cannot quite pull off ironically wearing your grandmother's knitted holiday sweaters, designers have come up with the perfect solution:
the Ugly (but Stylish) Christmas Sweater!!!