As
previous posts
suggest, I am a devoted
Gossip Girl
fan and have followed the past five seasons religiously. In honor of the show's recent 100th episode (my, how the years have flown) I've looked back at the show that I started watching in middle school and have picked my favorite looks from the show.
Blair and Serena as best friends and lovely models in "Eleanor Waldorf" designs (actually Lorick)
What uniforms? Jenny, Blair, and posse meet on the Steps of the Met before school in perfectly posh ensembles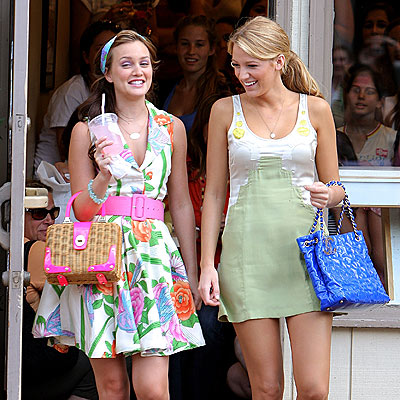 For season two the show went to the Hamptons, the summer playground of the Upper East Side, and both Blair and Serena look absolutely summer-ready
Gossip Girl made me desperate for many prep school staples, including argyle, trench coats, and of course, headbands
Blair and Serena- best friends in Ralph Lauren on Lily's third wedding day
Jenny Humphrey was my favorite character in season one; I loved her Brooklyn cool-meets- UES prep style
Gossip Girl in Paris allowed the show to tackle uncharted fashion territory
I loved Serena's bad-girl-gone-good image in season one, including this vintage frock
We gotta give it to the boys: They made girls everywhere wish their boyfriends wore more purple
Gossip Girl's 80s flashback showed us a country club-filled side of the decade we rarely see
I was always a fan of Kati and Isobel's over-the-top matching get ups


The Masked Ball has left me dreaming for a rockin' masquerade of my own
Serena's first outfit on the show has stuck with us throughout the years as the epitome of style
Perhaps my favorite outfit, this look features headbands, stripes, and a devious smirk - what more could you ask for on an episode of GG
Blair in Chuck's scarf is like the UES equivalent to wearing your boyfriend's varsity jacket
I like how Chuck and Blair match, even when they aren't together
Elizabeth Hurley proved to be just as hot as the twenty-somethings on the show as the delightfully devious Diana Payne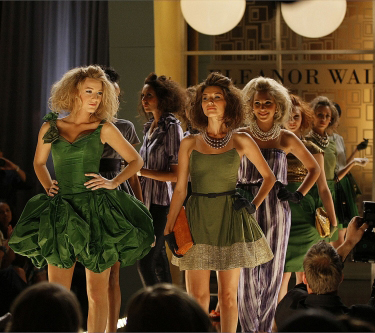 Serena as a fashion model made my day. Just look at her work the runway!
Clemence Poesy as the sweet French girl who saved Chuck made me wish I had a French accent and a Chanel blazer
Your prom dress will never be as good as Blair's
Through all the wacky styles, through all the boyfriends and backstabbing and bitchiness, the best part of Gossip Girl is not the clothes but rather the lasting friendship between these two best friends. Here's to five more seasons of Blair and Serena, no matter what they wear!

(Gossip Girl is property of the CW)